Jack Gilinksy is an American singer and part of the music duo Jack & Jack (with his long-time friend Jack Johnson). He dated Madison Beer for almost three years from 2014 to 2017. Their relationship is referred to as Jadison by fans.
Quick Facts
Edit
They started dating on July 22, 2014.
Their relationship was criticized for the age difference of 2.5 years.
Jack verbally abused Madison in a video leaked. Madison also verbally abused Jack.
Their relationship ended in July 2017 (after three years together).
Relationship with Madison
Edit
2014-2015: BeginningsEdit
Madison and Jack met through Nash Grier at a party in the early summer of 2014. In an interview, Madison stated they went on vacation together with some friends and that's when she started to have a crush on him. She was referring to the iHeartRadio Summer Pool Party that took place on June 27 and 28 in Miami, Florida. Madison, Jack, Carter Reynolds, Jack Johnson, and Pierre Balian all went together. Jack and Madison continued to talk and became close. About a month later, they told each other their feelings and officially began dating when he got home from tour on July 22.[1] Jack and Madison kept their relationship a secret for several months. They anticipated a negative reaction from their fans and didn't want to upset anybody. However, they were sometimes seen out in public together and often hung out with other members the Magcon group.
Fans first started to suspect something when on January 16, 2015, Madison and Jack were seen with a famous internet fan called "Stalker Sarah" at a restaurant.[2][3] On March 2, 2015 Madison confirmed to a fan that they had already been dating but didn't want to announce it yet because they were didn't want to get a lot of hate.[4][5] In the next two weeks, Jack and Madison began dropping hints to their fans about their relationship. They favorited tweets about their relationship, indirectly tweeted each other, and posted blurry pictures together on Snapchat. They would tweet saying "I think it's time I told everyone...." and then tweet later "...that I like mangoes!". Finally, Jack and Madison confirmed their relationship on March 15, 2015. A fan asked Madison when they were going announce it to which she replied "today".[6] Later that day, they arrived together as a couple at the Justin Bieber Roast for Comedy Central which publicly confirmed the relationship.[7] They initially received a lot of hate from fans because of their age difference.
Jack and Madison attended the "Just Jared Throwback Thursday Party Presented by Monster High" on March 26, 2015.[8] Madison and Jack went to The Grove movie theater on March 29.[9] Madison and Jack were spotted at the mall on April 9, 2015 and took some pictures with fans.[10][11] On April 25, 2015, Madison attended the 2015 Radio Disney Music Awards with Jack Gilinsky, Jack Johnson and Jake Foushee. While on the red carpet, Gilinsky was asked about Madison. He confirmed they were dating and said they wanted to keep it quiet. Johnson added in, ""It's kind of a nuisance just seeing everybody hating on him, when it's just these two kids who like each other. And it's no big deal."[12]
Later that week, Madidson attended the DigiTour on April 29 where Jack & Jack performed. Madison walked the red carpet with Jack and the rest of the boys on May 17, 2015 at the Billboard Music Awards. Madison confirmed in a live chat that Jack had got her a ring (which she wears on her left middle finger).[13] They went to The Grove on May 24, 2015.[14] They went to the beach with Madison's father, Robert Beer, later that day.[15] Jack and Madison got Carter Reynolds the cake for his birthday.[16] They then attended his birthday party.[17] On June 6, 2015, Madison attended DigiFest in New York City where Jack & Jack performed. Madison also attended the DigiTour on July 2, 2015.[18] The next day, they went to the beach together.[19][20] On July 22, 2015, Madison's mother Tracie Beer confirmed on Instagram that it was Jack and Madison's one year anniversary.[21] Madison also tweeted about this but later deleted it.[22] Madison and Jack went on a helicopter ride to Catalina Island.[23][24][25] Jack also got Madison a promise ring for their anniversary.[26][27] They attended Amanda Steele's Sweet Sixteen birthday part on July 26, 2015. Jack tweeted that he had gotten his first-ever pedicure thanks to Madison and he enjoyed it.[28] Jack and Madison attended the premiere for The Janoskians' movie Untold and Untrue on August 25, 2015. Madison wished Jack a happy 19th birthday on Twitter by saying "happy birthday you are such a gem and i couldn't imagine a world without u. i love you always bub. thunder buddies for life" and he replied "Thank you mad mad I'm so glad you came out to ny & surprised me this week. You make me so happy. I love you coob."[29]
Jack and Madison vacationed in Miami for the holidays in December 2015. They arrived on Christmas Eve and stayed through New Years. They were seen on the beach most days and gained attention from many media sources.[30][31][32][33][34][35][36]
2016-2017: "Dark" times and ultimate breakupEdit
For Valentine's Day 2016, the two couldn't be together because Jack was on tour in Omaha.[37] Nevertheless, he sent Madison flowers and a teddy bear.[38] Madison and Jack went to Hawaii in July 2016 to celebrate their 2 year anniversary.[39][40] Madison and Jack faced rumors of a breakup in late 2016. They decided not to comment on their relationship status which only fueled the rumors more. After about a month, the couple confirmed they were still together. They appeared in an advertisement for clothing brand American Eagle together which was holiday-love themed.[41][42] Madison and Jack went to Miami for Christmas like they did the previous year.[43][44]
In March of 2017, Madison finally turned 18 which ended the negativity about the age gap between them; their relationship was then "legal" technically as Madison was no longer a minor. Jack wished Madison a lengthy birthday message on Instagram. In April, Madison and Jack went to Coachella together with some friends. Madison confirmed they were still together on June 15 in an interview. She discussed how they wanted to keep their relationship personal because it's nobody's business but their own.
On July 1, an audio clip was released that showed Jack verbally abusing Madison. After Madison jokingly called his music "shitty" he harassed her and called her a slut several times. This lead to outrage by fans and a worldwide trend of '#JackGilinskyIsOverParty' on Twitter. A second audio Madison walks in on Jack cheating on her and he calls her stupid over and over again whilst she's crying.[45] Jack posted an apology on Twitter saying the video was from the previous year and they had moved on from that low point. He also confirmed they were currently broken up. Madison posted a statement on Twitter also but later deleted it. Part of the statement said, "If someone is mistreating you in ANY way, please speak up. It is NEVER okay and I was blinded by love and much too afraid to come out and say anything in fear I would be broken up with/not taken seriously by someone I told."[46][47][48]
"You say you can't live without me, so why aren't you dead yet?"
To view the Jack Gilinsky gallery, click here.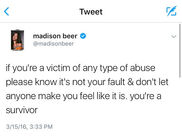 If you are a victim of 
any kind of abuse 
please do not be afraid to speak up and ask for help. We love you and you're incredibly strong. if you are in any immidiate danger please call 911 or your local emergency service.
Here are some helpful websites and sources that can help you and others:
1-800-799-SAFE(7233) - Free Hotline
External links
Edit
References
Edit
Community content is available under
CC-BY-SA
unless otherwise noted.