Madison's sign is a Pisces.[1]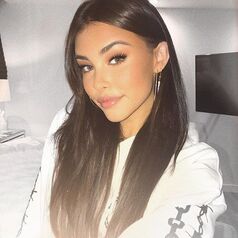 On December 6, 2014, Madison reached 1 million followers on Twitter.
Madison's height is 5'4".
If Madison wasn't a singer she would want to be a detective because she watches so much Law & Order.[4]
Madison is Jewish.
Madison loves the restaurant Urth Caffe.[5]
Madison's favorite season is summer.
Madison's favorite TV show is Rick and Morty.
The most fun thing Madison has ever done is go jet skiing.[7]
Madison loves the television series American Horror Story and actually covered the theme song "Carousel."
Madison gets gel nails done.[8]
If Madison could visit one place in the world it would be Bora Bora.[9]
Madison owns a grand piano.[10]
Madison dated singer Jack Gilinsky for three years.
AquaFresh is her favorite toothpaste.[11]
Tracie Beer's favorite movie is Splash and the main character's name is Madison, so that's where Madison got her name from.[12]
Madison's favorite movie is the Fight Club. The song "Tyler Durden" is inspired by her love for this movie.
She loves cream soda.[13]
Rihanna and Beyonce are her favorite artists.
Madison's first piece of merchandise is a white beanie. You can buy it here.
Madison's personal Spotify is madryder35. It features music from her favorite artists such as Tame Impala, Rihanna, etc.
References
Edit
Community content is available under
CC-BY-SA
unless otherwise noted.